Read Time:
2 Minute, 1 Second
Turkish President Recep Tayyip Erdogan has said he is revoking the diplomatic status and rights of ten foreign ambassadors.
Mr. Erdogan says ambassadors from ten countries, including the United States and France, will be disqualified. The ten ambassadors issued a statement demanding the release of Osman Kavala, a well-known philanthropist in Turkey.
The United States, Canada, France, Finland, Denmark, Germany and the Netherlands jointly issued the statement this week. New Zealand, Norway and Sweden.
The Turkish Foreign Ministry summoned ten foreign ambassadors and expressed dissatisfaction with their statements.
He is accused of financing anti-government protests and taking part in a failed military coup in 2016. Kavala has been in jail since 2016. He was not convicted.
Until a final warning is given to Turkey, the Council of Europe, Europe's main human rights watchdog, until he faces trial. Demanded the release of Kavala.
Mr. What is Erdogan's argument?
Saturday Mr. Speaking to a crowd in the city of Eskisehir, Erdogan said the ambassadors "cannot show the courage to come to the Turkish Foreign Ministry and issue instructions."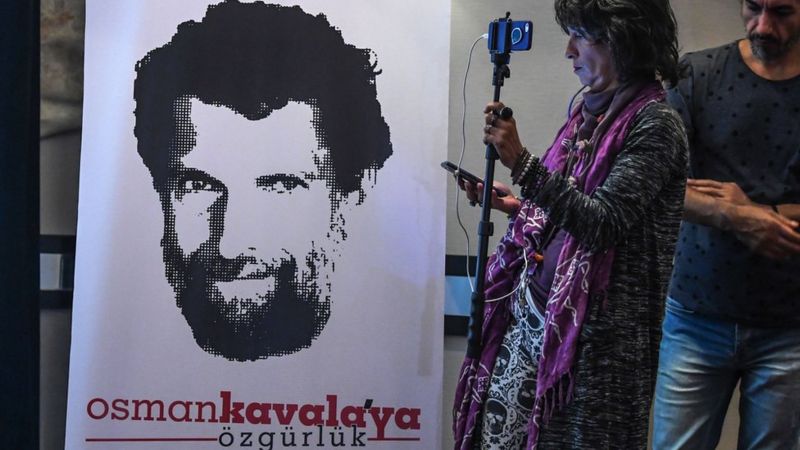 "I have given the necessary instructions to our foreign minister and told him what to do. These ten ambassadors should be declared unwelcome immediately. You must take immediate action," he said.
However, it is not yet clear what will happen in reality.
According to the Turkish media, Mr. Erdogan said the ambassadors must understand the reality of Turkey or leave Turkey.
No such response has been received from the ambassadors so far.
But Norway's foreign ministry told Reuters news agency its ambassador had "not done anything to cause him to be expelled."
The Turkish Foreign Ministry summoned the ambassadors on Tuesday and protested their statement on the Kavala issue, calling it "irresponsible".
The ambassador's statement criticized the "continued delay" in bringing Osman Kavala to justice, saying the delay "casts doubt on democracy, the rule of law and the transparency of Turkey's judiciary."
The statement said "Turkey has been asked to release Mr. Kavala immediately."
What are the allegations against Osman Kavala?
Mr. Kavala was acquitted of organizing nationwide protests in 2013, but was re-arrested shortly thereafter.
His acquittal was overturned and new charges were brought against him in 2016 for attempting a military coup against the Erdogan government.
Mr. Kavala denied the allegations against him.
Mr. Critics of Erdogan said Mr. The Kavala incident is an example of the widespread suppression of dissent in Turkey.